About Us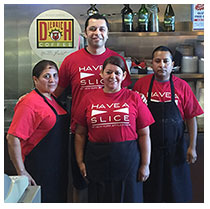 We have been bringing Orange County artisan, New York style pizza since 1991. Our family has been in the pizza restaurant business over 45 years with locations on the East Coast as well as the West Coast. Our first family location was opened in 1970 across from Yankee Stadium by the owner's uncle, and here we are now, in the heart of Laguna Niguel, California. The owner, raised in New York brings the family recipes to you. A real New Yorker making authentic New York pizza!
Our courteous staff has been with us for over 20 years and like the owner, puts love and caring into your food.
We feel our products are reasonably and affordably priced for the Premium Quality and Fine Service we offer you.
Our location has been voted BEST PIZZA IN ORANGE COUNTY many times over. We have been proud sponsors of many neighborhood charities, school and sport team events. Over the years, we continue to support the community by employing local teens and adults teaching them new skills and encouraging them to do more. None of our food is ever discarded, as we have set up a program to feed others who may need it.
Click here to read our 27th Anniversary Tribute to our Customers!
---

Chris Cusumano has been in the restaurant business for over 25 years and is excited about continuing her tradition of providing you with a New York style "Slice of the Pie" in the same great location - just with a brand new name!