About Us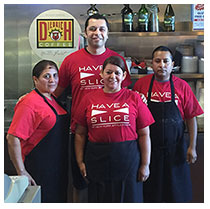 Over the last 30 years, Slice of the Pie Pizza has been proudly bringing Orange County artisan, New York style pizza. The founding family has been in the pizza restaurant business over 45 years with locations on the East Coast as well as the West Coast. The first location was opened in 1970 across from Yankee Stadium in the East Coast. In 1991 Slice of the Pie Pizza was opened in the heart of Laguna Niguel, California, bringing the authentic taste of New York Style Pizza to the West Coast.
Our courteous staff has been with us for over 20 years and like the owner, puts love and caring into your food.
We feel our products are reasonably and affordably priced for the Premium Quality and Fine Service we offer you.
Early 2020 we received the prestigious AWARD OF EXCELLENCE from Orange County Environmental Health Division for CONSISTANTLY MAINTAINING EXCEPTIONAL HIGH FOOD SAFETY AND SANITATION STANDARDS THROUGHOUT 2019.
Our location has been voted BEST PIZZA IN ORANGE COUNTY many times over.
We have been proud sponsors of many neighborhood charities, school and sport team events. Over the years, we continue to support the community by employing local teens and adults teaching them new skills and encouraging them to do more. None of our food is ever discarded, as we have set up a program to feed others who may need it.
Thank you for your continued support. We welcome your feedbacks which help us to improve our service to you.
Slice of the Pie Pizza
---