Our Food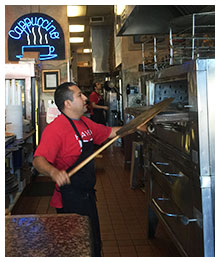 We take pride in giving customers honest, premium quality product. Each pizza is hand-stretched and baked to perfection on a sizzling hot stone oven. Be assured our restaurant uses the finest products available, from extra virgin olive oil, imported Romano and Parmesan Cheeses, as well as 100% Real Wisconsin Mozzarella Cheese. Fresh bread, veggies and herbs are delivered daily.
Our Italian sausage is locally made and is trans-fat and MSG free. No nitrates are added or chemical preservatives.
We use chicken breasts which are minimally processed, no artificial ingredients and no added hormones.
We also bring you the best tasting gluten-free pizza crust on the market.
One of the best things about Slice Of The Pie Pizza is you, the customer, have endless choices. YOU get to pick the SIZE of your pizza as well as an endless variety of premium gourmet toppings. If you can dream it, we will make it for you!
Oh YES, we still sell Pizza By The Slice too! Come In and try a Slice Of The Pie Pizza today and bring your hungry family. At the end of the day, we keep it honest, premium, fresh and as natural as possible.
---