Specials
Lunch Specials, Monday - Friday, 11a.m. to 4:30p.m.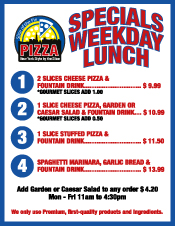 Choose from:
2 Slices Cheese Pizza and fountain drink: $7.50
(Gourmet slices add $1.00)
1 Slice Cheese Pizza, garden or Caesar salad, and fountain drink: $8.50
(Gourmet slice add $.50)
Slice Stuffed Pizza and fountain drink: $8.95
Spaghetti Marinara, garlic bread and fountain drink: $10.50
(All other pasta dishes add $2.00)
Add Garden or Caesar salad to any order for $3.50
Family Feast, Monday thru Wednesday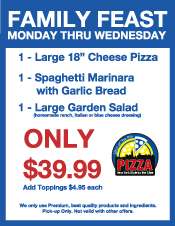 1 - Large 18" Cheese Pizza
1 - Spaghetti Marinara with Garlic Bread
1 - Large Garden Salad (Homemade Ranch, Italian, or Blue Cheese Dressing)
ONLY $28.99
Add toppings: $2.00 each. Add 2 liter soda: $3.50.
The Big Daddy Pizza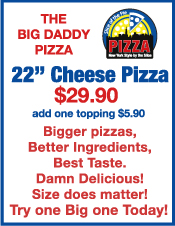 22" Cheese Pizza - $24.99
Add one topping: $3.00
Bigger Pizzas, Better Ingredients, Best Taste.
Size does matter!
Damn Delicious! Try a Big Daddy today!
Gluten-Free Crust Now Available!
Small and Medium available, same great toppings -- ask for it!
(Slice of the Pie is not a gluten-free environment.)
---